Small Basket Instructions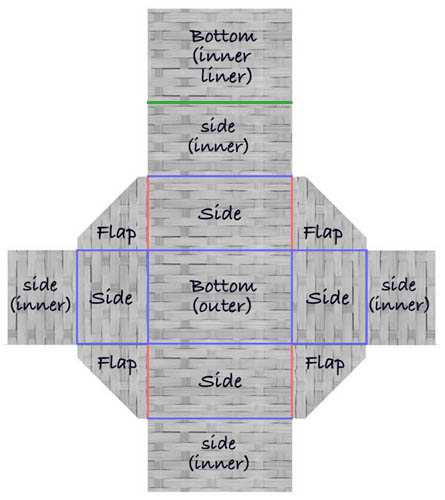 Assemble the Basket
Cut out the basket printie: Once you've cut out the main shape, cut along the lines shown in RED above.
Fold along the BLUE lines: Fold the paper so that the blank sides are together, the printed part outside. The only exception to this is the GREEN line; fold this the opposite direction.
Glue the flaps at the corners: Fold 2 adjoining sides up towards each other; fold the flap so that it goes to the inside of adjoining side and glue. Do this for all 4 corners.
Glue in the liner flaps: You should now have a basket shape with the extra liner sections still sticking up. Fold them down inside the basket and glue in place. The extra long one will line one side and the bottom.